ABOUT FESTIVAL
venue: R. Jelinek Distillery Area, Razov 472, Vizovice date: 07.-10.07.2022
THE TOWN OF VIZOVICE
The capital of the "Wallachian Kingdom" is situated 14 km east from Zlín and 30 km from the Slovak borders in the picturesque area of the Vizovice hills (296 m a.s.l.). The town has roughly 4 800 citizens and is famous mainly for its distilling tradition (Wallachian slivovitz among others) and the Vizovice pastries.
GUIDELINES FOR FESTIVAL VISITORS
- No money refund is possible once the ticket is paid. Four-day passes are in sales online. - Ticket forgery is illegal and punished according to the law! - Children older than 3 need their own ticket. Kid under 12 is allowed into area only when accompanied by an adult. - Ticket = wristband. With it you can leave and re-enter the festival area at any anytime. Once you take it off or lose it, you will not be able to re-enter the festival site! All persons without wristband on hand will be immediately taken out! - Ticket for festival wristband exchange will no longer take place at two entrances to the R. Jelinek Distillery complex (festival ground) but in containers with windows next to site entrances (close to railway station and to the R. Jelinek corporate shop). Holders of e-Tickets can obtain wristbands at the entrance close to the station only! - Organizers take no responsibility for any health / personal belongings damages caused during festival. - It is strictly forbidden to bring drinks, plastic bottles, glass bottles, cans, seats, chairs, various footpads including polystyrene or wooden "cubes", as well as any weapons, knives, scissors, flag poles, umbrelas and other things classified by staff as dangerous! The organizer reserves the right to personal security check in a manner permissible by law - at any time! Person refusing to consent to such check will be refused entry or escorted out. - It is strictly forbidden to bring tape recorders or video cameras to the area! Violation of this rule could be classified as a crime! - Taking photos is allowed only on compact cameras without additional lenses. Only accredited photographers and journalists are allowed to bring professional cameras onto the premises! - Organizer and artists reserve the right to film, video and TV recording of concert shows and festival atmosphere. Visitor recorded for the document may also be published without further notice with no financial compensation. - Camp - on labeled fields around the festival area - is free of charge. The camp will be opened from Wednesday 10.07.2019 (10:00) until Monday 15.07.2019 (10:00). - The festival area opens on Thursday, 11.07.2019 at 10:00, on Friday, 12.07.2019 at 9:00, on Saturday 13.07.2019 and Sunday 14.07.2019 at 8:00. It will close every day an hour after the program ends. Zones with toilets and showers will be open non-stop. - The beer is tapped into reusable cups with eyelet for attachment. A refundable deposit is CZK 50,-. Cups are exchanged within purchase of another beer or could be returned at two buy-out marked points. Promotional cups with Masters of Rock signs will be also available in the festival shop. But for hygiene reasons you don't receive beer into this cups which you bought in festival shop. - The only currency valid within the festival area is CZK (Czech Crown). Money exchange (EUR - CZK) is possible at both ticket offices right next to the festival entrances. - No dogs or other animals are allowed in festival area! - All visitors must respect these rules and instructions as well as those given out by organizers and security services!
IMPORTANT PHONE NUMBERS
| | |
| --- | --- |
| Pragokoncert Agency | 577 432 420, 577 432 580 |
| NON-STOP HEALTH SERVICES during festival | 774 908 457 |
| Railway station ČD - Vizovice | 577 452 209 |
| Czech Railway ČD - Zlín - info office | 577 572 482 |
| Post office - Vizovice | 577 452 401 |
| Police station - Zlín | 577 600 111 |
| Vizovice | 577 452 333 |
| Town information and tourist center - Zlín       | 577 630 270 |
Soon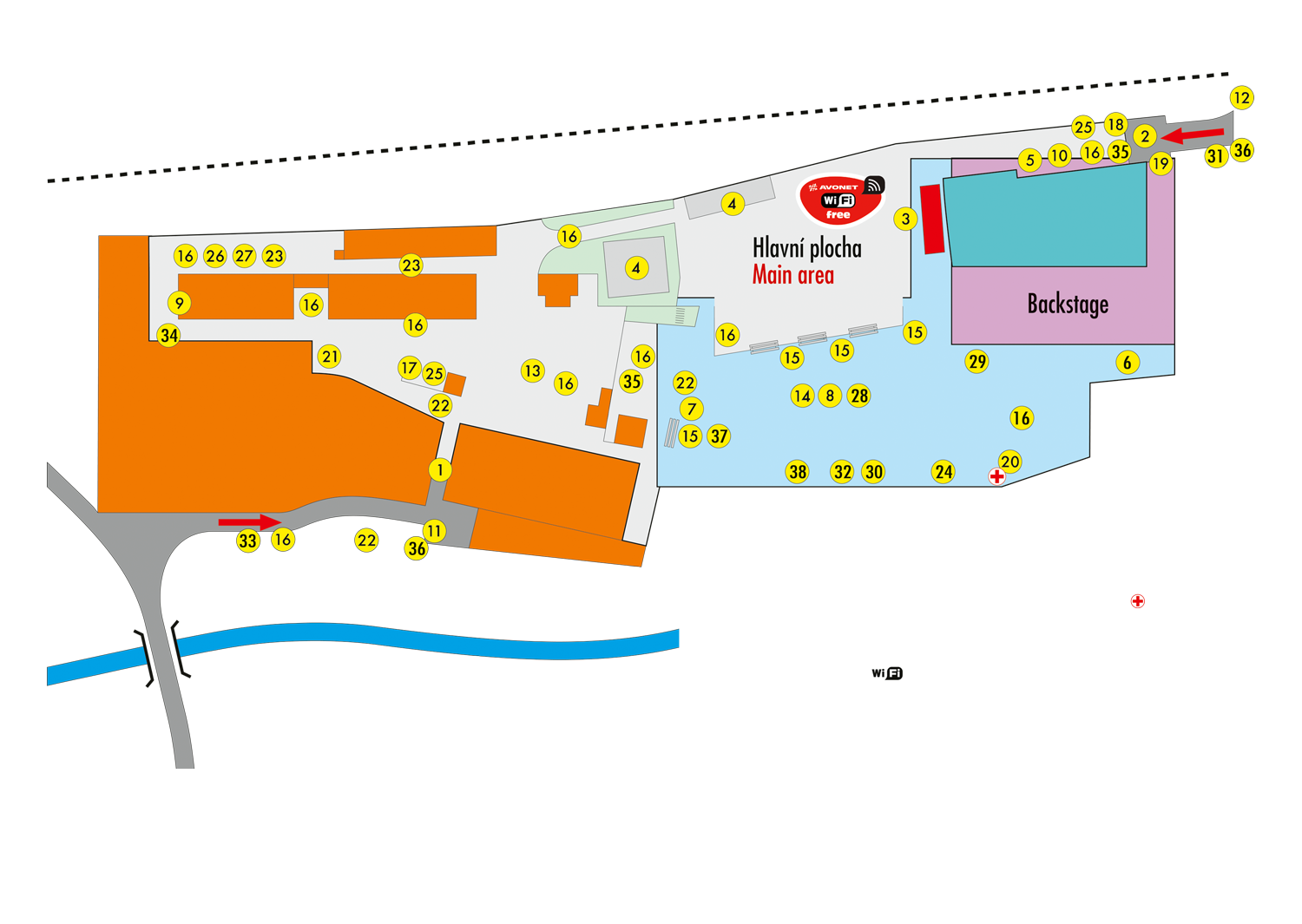 TRANSPORT
Railway: Line no. 331 Otrokovice – Zlín – Vizovice
Bus: from Zlín (16 Km)
from Vsetín (20 Km)
from Luhačovice (20 Km)
from Valašské Klobouky (33 Km)
Road: first-class road I/49 Zlín – Valašská Polanka
Zlín – Vsetín
For train and bus times see: www.idos.cz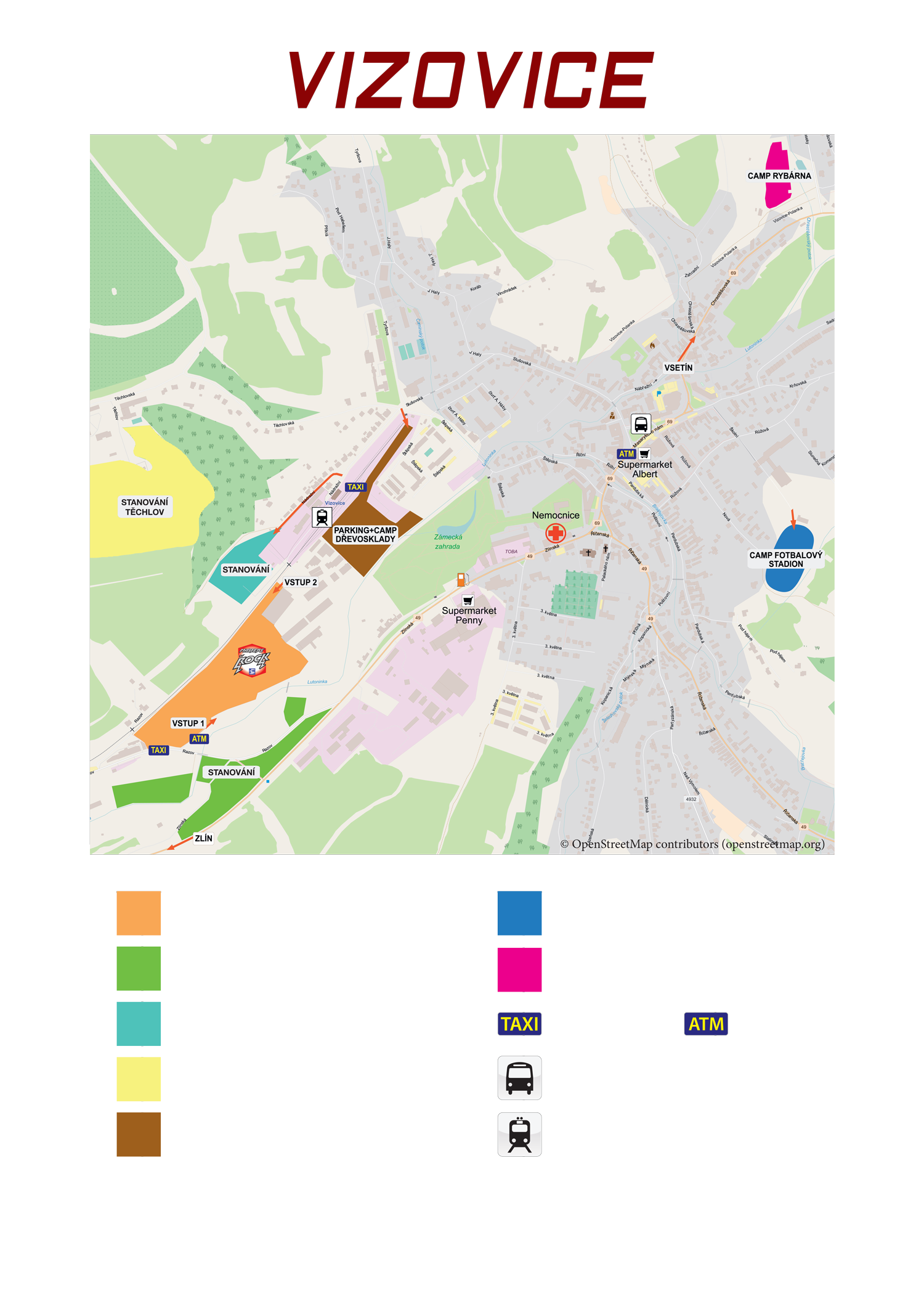 Accommodation
The accommodation is FREE during the festival in designated areas (see this map) next to the festival area of Jelínek distillery. Camping outside these marked zones is strictly prohibited!


Hotel HARMONIE - Luhačovice
The festival participants can use a 10% discount on accommodation in the Harmonie hotel upon their verification of the festival tickets. The transport from Luhačovice to Vizovice is easy by public transport or by hotel Taxi for larger groups.
You can book your stay online, by phone on +420 577 117 222/882 or by e-mail at manager@hotel-harmonie.cz
We look forward to you!
Hotel MORAVA - Otrokovice
The festival participants can apply 20% discount on accommodation in the Moravia hotel upon verifying themselves with the festival tickets. The discount is applicable only to double rooms. The transport from Otrokovice is easy by direct train to Vizovice. www.komplexmorava.cz
Parking and Camp Dřevosklad by the 2nd entrance
Like every year of the festival, the secure parking will be available by the Wood depot (Dřevosklad) close by the 2nd entrance to the festival area. The camp/parking is private property and therefore will be charged for. The price of the camping is included for travellers coming by car, as well as the toilets and the showers. More info and booking can be done via m.krupala@volny.cz.
This year we have expanded the camp field and also the toilets and showers.
The camp is open on 09.07.2019 from 08:00 to 22:00, 10.07.2019 from 07:00 to 22:00 and then from 11.07.2019 from 07:00 NONSTOP till monday 15.07.2019 13:00.
Camp football stadium - Vizovice
As in previous years, the camp in the football stadium of SK Vizovice will be available for the festival goers. It is a closed and secured area with the capacity of 150 places (150 tents/cars) with the full services (showers, toilets, refreshments). Book via e-mail: skvizovice@post.cz or call: 602 445 192 or 720 435 251. This space is not run by Pragokoncert, the fees go to SK Vizovice.
Car: 120 CZK/day
Person: 180 CZK/day

The Těchlov field
Free camping area - map and info here.
Rybárna camp and restaurant
Circa 15 minutes walk from the festival area. www.rybarnavizovice.cz
Hotel Vyhlídka - Luhačovice
A possibility of a discount for bigger groups. www.vyhlidka.eu
Residence Park-In Apartments in the Zlín city centre.
Renovated double rooms with a private bathroom and kitchenette. Capacity is 200 beds. There is internet in the building and parking space. For more info and booking call 602 587 955 or visit www.park-in.cz
Activitypark Hotel VŠEMINA
Hotel situated 12km from Vizovice. More info here.
Sports complex and hostel Zelené
Nearby the I/49 and ČD Podvesná stop, circa 18 minutes by train. 50 beds available in 2 or 3-bed rooms with toilets and WiFi. The area has a wheelchair access and an elevator next to the swimming pool Zelené.
Price: 360 CZK person/night
For More info go to ubytovnazelene-zlin.cz, or call 777 736 766.
The Tomáš Baťa University in Zlín dormitories
Location Štefánikova 150 or Antonínova 4379 a nám. TGM 3050. More info here.
Other accomodation options
Vizovice
SOŠ a SOU služeb Vizovice, tel. 577 599 333
Valašský šenk Vizovice, tel. 577 452 652

Zlín
Pension Karolína, Trnava u Zlína, tel. 577 453 383, 603 215 621
Hotel Sole Zlín, tel. 577 210 458
Food - refreshments
There are many restaurants offering a wide choice of dishes as well as an array of stalls in the festival village where you can have meals during the festival.
IN FESTIVAL AREA
- basic cold and hot meals
- fast food
- vegetarian meals
- Asian tea-rooms, "R. Jelínek" stalls
- pubs - premium Czech draught beers (Radegast, Pillsner Urquell), Kingswood Apple
RESTAURANTS IN THE NEIGHBOURHOOD
Pohostinství na Lapači, Říčanská 275, VIZOVICE +420 577 452 473
Restaurace, Říčanská 1178, VIZOVICE +420 602 516 568
Herna - Bar Frigo, nám. Palackého 361, VIZOVICE +420 577 452 245
Hospoda na náměstí, Náměstí TGM 138, VIZOVICE +420 577 453 420
Zámecká vrátnice, Palackého náměstí 354, VIZOVICE +420 577 212 567
Sport club, Palackého náměstí 354, VIZOVICE +420 724 217 917
Valašský šenk, Lázeňská 451, VIZOVICE +420 577 452 652
Herna - Bar Prima, Čtvrt A. Háby 394, VIZOVICE +420 577 454 180
Bar Corsica, Prostřední 1097, VIZOVICE +420 577 453 378
You can find many other restaurants, pizza places, pubs and bars in the nearby town of Zlin.